Get front and center with qualified senior consumers who are eager to learn from you!
The Assurance Group (TAG) offers a distinctive  seminar program which provides qualified seminar marketers with proven training, materials and best practices which will elevate your sales and revenue.

TAG's approach to seminar marketing is now considered the Standard of Excellence in the industry. We're constantly developing ways to enhance the seminar experience for attendees and seminar marketers alike.
| Seminar Success Drivers | TAG's Advantage | Your Seminar Approach |
| --- | --- | --- |
| Commitment to middle income T-65 market | | |
| Informative Attendee Booklets | | |
| Direct Mail Invitations | | |
| Social Media Invitations | | |
| Effective Seminar Presentation Content | | |
| Dedicated Support Team | | |
| Innovative Prep Process | | |
| Voice-to-Voice & Text Message RSVP Confirmations | | |
| Predictable Results Model | | |
| World-Class Products to Offer Seminar Attendees | | |
| Subject Matter Expert Consultations | | |
| Shared Best Practices with Successful Seminar Marketers | | |
| Pinpoint Results Tracking to Improve Sales Yields | | |
| Excitement of fastest growing company of its type in USA | | |
| Innovative Work Site Senior Seminar Platform | | |
Want to Learn More?
If you are a successful seminar marketer and interested in taking your practice to the next level, we invite you to learn more about all the The Assurance Group has to offer.
If you'd like to learn more, please call Chris Weaver, Senior Vice President of Sales at 802-917-5833 or email clweaver@assuregrp.com.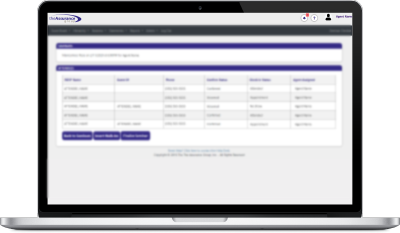 Seminar Technology
The Assurance Group recognizes the importance of investing in technology solutions to help our marketers be as efficient as possible. TAG's proprietary event management software allows marketers to track event data in real-time with 24/7 access. From one easy-to-use site you can easily view RSVPs, check in attendees as they arrive, insert walk-ins, and view leads and referrals for all current and past seminars.
What The Assurance Group Stands For

With more than one-million satisfied clients, The Assurance Group has grown to become one of the top insurance marketing organizations in the United States.  Founded more than 30 years ago, our mission is to improve the life of every person our company touches, building financial solutions through genuine care for others.  Through Founder, Ed Shackelford's, diligent attention to the needs of the Senior Market, the company has expanded into a well-established and respected organization with expert agents across the country and more than 30 regional offices.  As a testament to our focus on excellence, TAG has proudly earned and consistently maintains an A+ Rating with the Better Business Bureau.