Have all your employees' questions about Medicare, Social Security, Long Term Care and Nest Egg Planning and much more answered by an experienced professional.


What to Expect at a TAG Employer Seminar

The Assurance Group's Employer Seminars are hosted at work and job sites across the country by our licensed, professional agents.
Our seminar professionals work with you to plan and host your seminar event on a date and time convenient for you and your business operations.
The presentation will take less than an hour. During that time, your TAG seminar host will discuss with your employees several topics, including: the different parts of Medicare, Medicare Supplements, Social Security, long-term care, life insurance options, and Nest Egg Planning for retirement.
The presentation is a broad, informative overview and specific product needs vary widely among individuals. That's we always encourage attendees to schedule a follow-up one-on-one appointment to answer specific questions and conduct a needs analysis.
Not only will the seminar content be relevant for your employees who are Medicare eligible, as an important goodwill gesture, many employers offer an invitation to parents and grandparents of their younger employees as well.
And, of course, your TAG seminar host will provide your employees a complimentary breakfast, lunch or a hearty snack to enjoy after the seminar presentation. It's our way of saying 'thanks'.
By the way, many employers experience a reduction in their group health costs when an employee elects Medicare as their health care option. Be sure to ask us if we can save you money.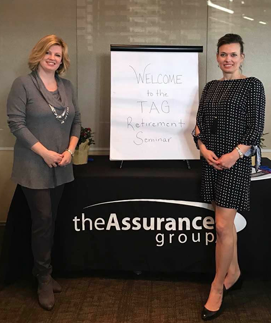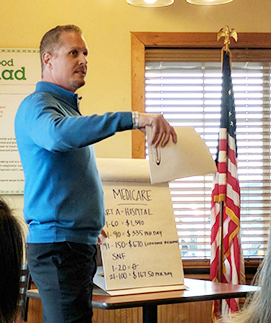 Call to Learn More About TAG Employer Seminars!
When you call, our Seminar Support Team will take your contact information and will arrange for you to receive a call from Chris Weaver, TAG's Senior Vice President.
Chris will provide an overview of the TAG Employer Seminar program. He'll then schedule a personalized video conference presentation. This 15-minute overview will outline the seminar's objectives, logistics and next steps. He'll also be able to answer any questions you may have. He can also discuss how you might be able to see a reduction in your group health insurance costs if an employee elects Medicare as their health care option.
If you're interested, we'll work with you on dates and times which work best for you for your seminar event. And rest assured, we'll take great care to ensure the seminar event does not impact your business operations.
Agents of The Assurance Group must be certified by our senior executive team before being approved to conduct a retirement seminar. This process includes an extensive training and testing schedule to ensure these already knowledgeable agents can effectively pass that knowledge on to you, our audience. All of our seminar hosts have a passion for helping people and enjoy solving the "puzzle" of finding the right products to meet each individual's unique needs. No matter where your seminar is taking place, you can be confident in knowing your TAG agent is an experienced professional in the fields of Medicare, Social Security, and insurance & financial services.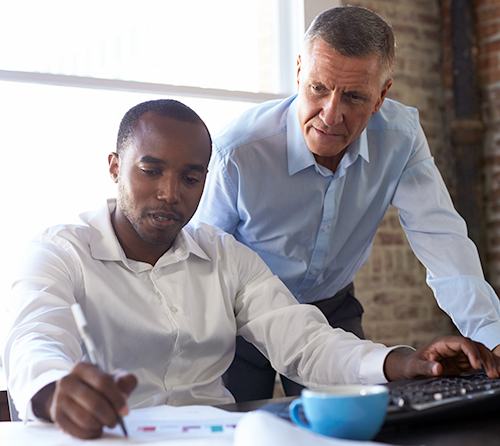 What The Assurance Group Stands For

With more than one-million satisfied clients, The Assurance Group has grown to become one of the top insurance marketing organizations in the United States.  Founded more than 30 years ago, our mission is to improve the life of every person our company touches, building financial solutions through genuine care for others.  Through Founder, Ed Shackelford's, diligent attention to the needs of the Senior Market, the company has expanded into a well-established and respected organization with expert agents across the country and more than 30 regional offices.  As a testament to our focus on excellence, TAG has proudly earned and consistently maintains an A+ Rating with the Better Business Bureau.
Call Now for More Information
Please give us a call so we can set up your overview with Chris!
Complete the form below to have one of our support specialists contact you!
Our Seminar Support Team is available from 8am - 5pm Monday through Friday. We'll be in touch as soon as possible - usually within 48 business hours. We look forward to speaking with you!